We'd all like to continue building sandcastles, but reality is quickly closing in. School starts for us the day after Labor Day. Thankfully, we still have time to play around in the sand before we have to shake off our beach towels and return to real life.
If you didn't win the sandcastle contest this summer, there's time to practice.  Look at this video to see what can be built. Pretty
impressive..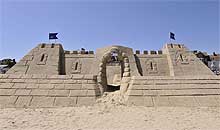 The largest sandcastle on record is shown here, using 1,000 tons of sand! Giant Sandcastle at Weymouth beach, Dorset, Britain. Photograph: Rex features
If your kids are already in school, flip through your summer photos and pull out a favorite. Send it out to friends and relatives to remind them of the fun you had this summer.
Put your photo on our folded photo card, like the one above. You can order it for a horizontal or vertical photograph. If you don't want to glue on the pictures, we'll do it for you. If you want the photograph printed right on the card, we can do that too. Just upload your photograph on our site.
Easier than building a sandcastle, that's for sure.